Top Ten Unique Venues
Be it through stunning architectural style or gorgeous interior design, it seems every street in London has its own standout venue to offer, but when you're organising an event you want your guests to remember forever, choosing the right venue could well be the key to your success.
Think of the venue itself as the canvas and your event as the ink; the two need to come together if you want to create something truly fantastic and above all else, memorable.

The Clerkenwell House of Detention has a long and fascinating history, stretching right back to its construction as a prison in 1617. It was ravaged by a fire in 1780 during the Gordon Riots before being demolished in 1893 in favour of Hught Middleton School. Beneath the playground however, you can still find extensive remnants of the buildings that once bustled with life and have retained their haunting allure.

Not only is The Conservatory one of the most versatile spaces when it comes to functions in London, it's one of the most unique venues too. At the very heart of the city, you can discover this breath-taking mini-oasis, home to thousands of species of tropical plants, trees and fish. The glass roof and terrace area also help to maximise the feeling of embracing the natural world and bringing the outside in, to cement The Conservatory as a visual masterpiece.

Even if you are yet to visit it, you may recognise The Depository, as the now iconic venue was the original filming location for the hit BBC business show, Dragon's Den. It is split over four floors, each with its own atmosphere but all with textured walls and wooden floors that bring a sense of vintage grandness, and huge windows that allow for natural light to fill the impressive space. Hugely versatile and always quirky, this is definitely a location to impress.

Shaka Zulu is London's biggest and arguably best South African restaurant. It has achieved remarkable popularity in a relatively short period of time, having only launched in August 2010, but the special royal blessing from the Zulu King himself, HRH Goodwill Zwelithini, and the eclectic mix of food, drinks, live music and dancing have ensured this location as a Camden hot-spot.
You may not expect an old cardboard box factory to be a go-to event destination in London but the top floor of such a place is exactly where you will find the eccentric Dalston Heights. There's something intriguing to draw the eye no matter where you look here, with a vast range of props and furniture that can be arranged accordingly in this enthralling urban-vibe space. There is even a handy on-site kitchen area for catering purposes, to make organising events even easier.
This truly unique venue in Camden Town is Britain's only virtual reality experiential destination, and it comes with all the latest VR technology and content. The gorgeous 2,000 sq ft grade 2 listed building is equipped with mounted projectors, plasma screens and bespoke lighting system. Guaranteed to create a memorable and authentic experience for your guests, this venue is ideal for breakfast meetings, business workshops, away days, team building sessions, birthday parties, entertaining clients, product launches and exhibitions.
The Tin Studio comprises of walls made of corrugated steel, copper and iron alongside painted industrial brickwork and worn concrete. The Brick Studio has various old brick and white textured walls, wooden and concrete flooring and sky lights with electric blackouts
This 3,200 square foot event space is the epitome of a blank canvas, just waiting for you to put your own unique stamp on it. The exposed Victorian brickwork dates way back to 1860 and immediately helps to set the tone, while the railway arches and infinitive curve are unlike anything else you are likely to find in a London venue. To top it all off, Kachette is located in the trendy east end location of Shoreditch, adding even more to its appeal.
FLUXLAND
For something totally unique that your guests are sure to remember for a lifetime, Fluxland is a moored vessel in a marina upon the Thames, built out of a former freight boat to create a one-of-a-kind event space. Ideal for more intimate meetings, the capacity allows for up to 60 delegates to attend, but what is perhaps most interesting of all is the boat's geometric, mirrored design, which means it changes perspective as the shifting light hits it at different angles throughout the day.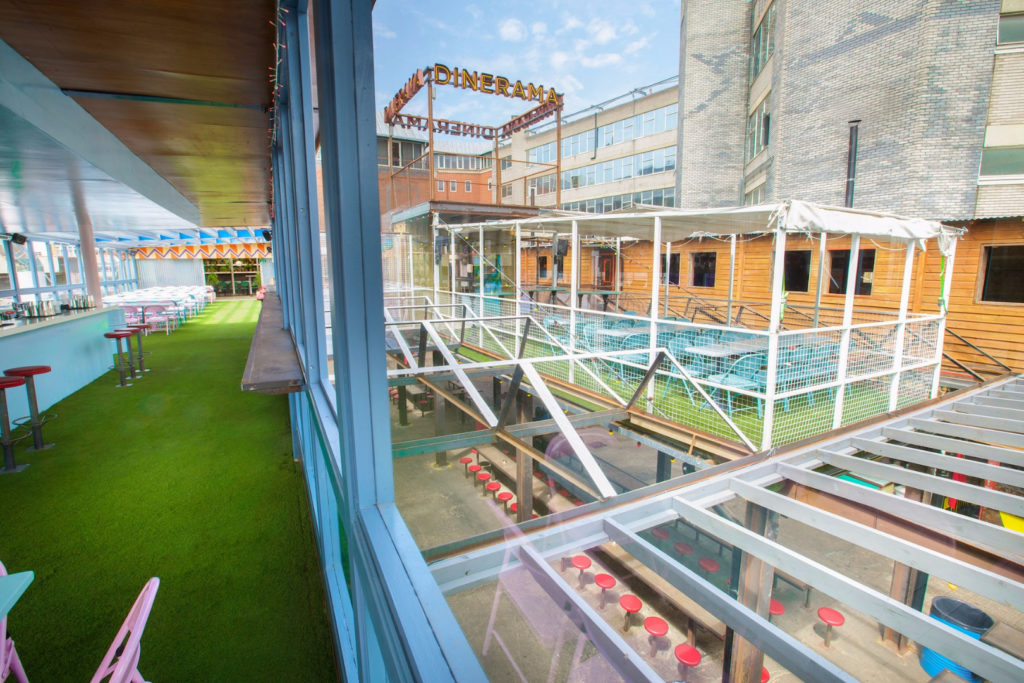 Right at the forefront of the ongoing craze for urban chic and industrial style venues, Dinerama is a former bullion truck yard which has been transformed into a vast, two-level 1000 capacity event space which houses some of London's best street food traders and 6 bars, which serve everything from wine, champagne and gin spritzers to tequila slushies, cocktails and craft beers from around the world, meaning the drinks shall certainly be flowing.