Award ceremony venues
If you haven't practised winning an Oscar, you haven't been living. I've got my sincere and gracious acceptance speech down to a t. Obviously I'd just like to thank my mum…
When you're choosing a spot for an awards ceremony – whether it's a formal dinner, or a low-key event – you'll need to keep your eyes peeled for a venue with good accessibility, tech facilities and space for catering. We've put together a selection of spaces that fit the bill, all with their own charms to suit whatever awards you might be presenting.
Location: Canada Water
Capacity: 3000 standing, 3000 seated
Check it out here: Hawker House
Hawker House is a huge indoor warehouse venue with an industrial feel. Its many spaces include the 2 main rooms and 3 breakout areas, but it's also home to 10 bars and 14 street food traders.  
Location: Holborn
Capacity: 450 standing, 400 seated
Check it out here: Conway Hall 
Conway Hall dates back to 1929 and is now Grade II listed, having become a landmark of the city's cultural scene. The main hall is renowned for its excellent acoustics and charming period features. 
Location: Bankside
Capacity: 320 standing, 120 seated
Check it out here: Garden Museum 
Garden Museum sits by the banks of the River Thames, opposite the Houses of Parliament. In-keeping with this enviable location, it's a grand and beautiful offering. Traditional details include vaulted ceilings and soaring pillars. But, there are contemporary spaces on offer too, if that's more your thing. 
Location: Old Broad Street
Capacity: 800 standing, 250 seated
Check it out here: Il Bottaccio 
Dutch Hall at Il Bottaccio is a Grade II listed church from the 16th century. It has been renovated with taste and consideration, maintaining the venue's classic sensibilities. Stained glass windows and other such details bring charm and splendour to The Great Hall. The Gallery, meanwhile, is a brighter, more modern space. 
Location: Leadenhall Street
Capacity: 300 standing, 220 seated
Check it out here: Landing Forty Two 
This has the distinction of being the highest designated event space in London. Found on the 42nd floor of The Leadenhall Building, it sits 500ft above the bustle of the City. Full-length windows ensure the interior is bright and airy, and that the views are always on show. 
Location: Euston
Capacity: 250 standing, 1000 seated
Check it out here: The Light 
This conference and event space is the largest of its kind in the Euston and Kings Cross area. The variety of configurations and customisable packages allow for bespoke events. The venue is also well connected via rail links, for ease of access for all guests and attendees. 
Location: Temple
Capacity: 330 standing, 451 seated
Check it out here: IET London: Savoy Place 
The 4 floors at IET London: Savoy Place were recently revitalised for the 21st century. Amongst its various spaces, the venue now includes a roof terrace with enviable views. This could serve as a lovely reception space. Connectivity, accessibility and top-notch technology are all also on hand. 
The Bloomsbury Ballroom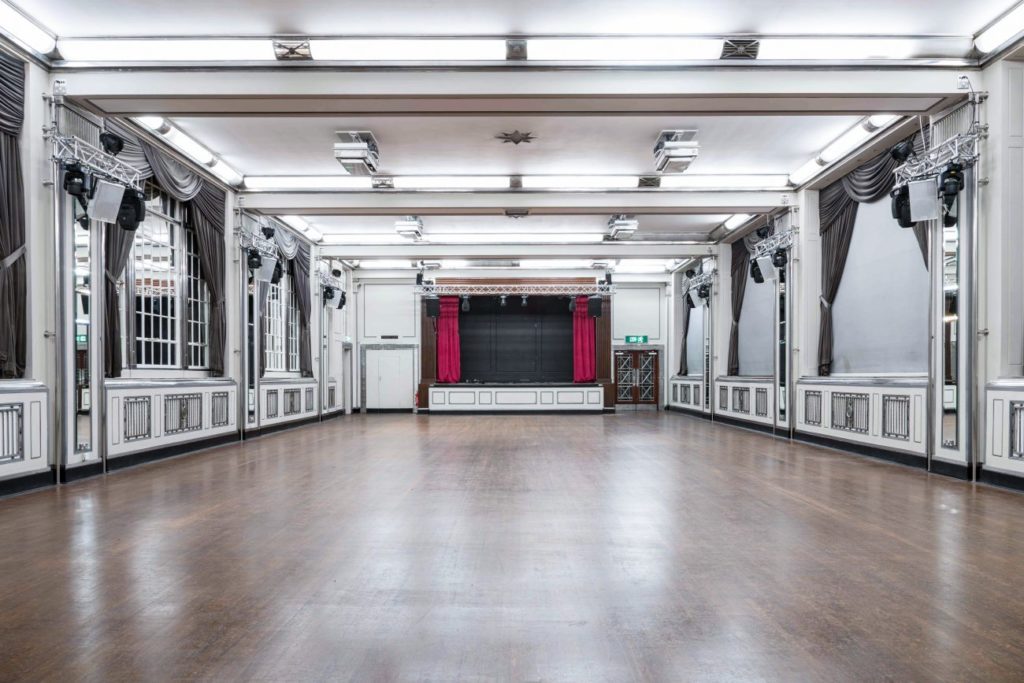 Location: Bloomsbury
Capacity: 880 standing, 500 seated
Check it out here: The Bloomsbury Ballroom
The Bloomsbury Ballroom is a beautiful and spacious Art Deco hall on Bloomsbury Square. It has all the mod cons you'll need for an awards ceremony: full AV tech, wifi, parking, disabled access and full air conditioning.