CITY BRIDAL COMMITTEE: Cheap wedding dresses in London
We're a crack team of city brides, and we know all the best suppliers from Zone 1 to Zone 6. Send us your questions, and once a month we'll answer the most frequently requested. This month: wedding dresses that don't cost the earth.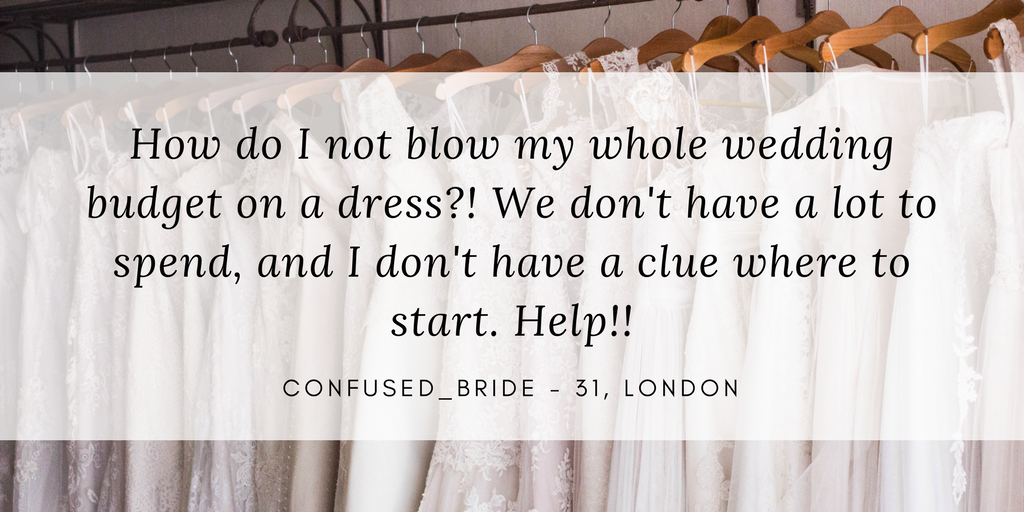 There are two schools of thought when buying a wedding dress: you're going to wear it for six hours, or you're going to remember it for a lifetime. Both correct, and yet one says: this dress should be nice but not expensive, and the other says: I'm willing to pay an obscene amount of money.
The average wedding dress costs 7% of the overall budget. Don't worry – we're hoping to get you in under that figure. We're going to lay out every thrifty-ish technique for getting your hands on a dress, so you can pick which option works best for your budget and your time:
GETTING A FREE DRESS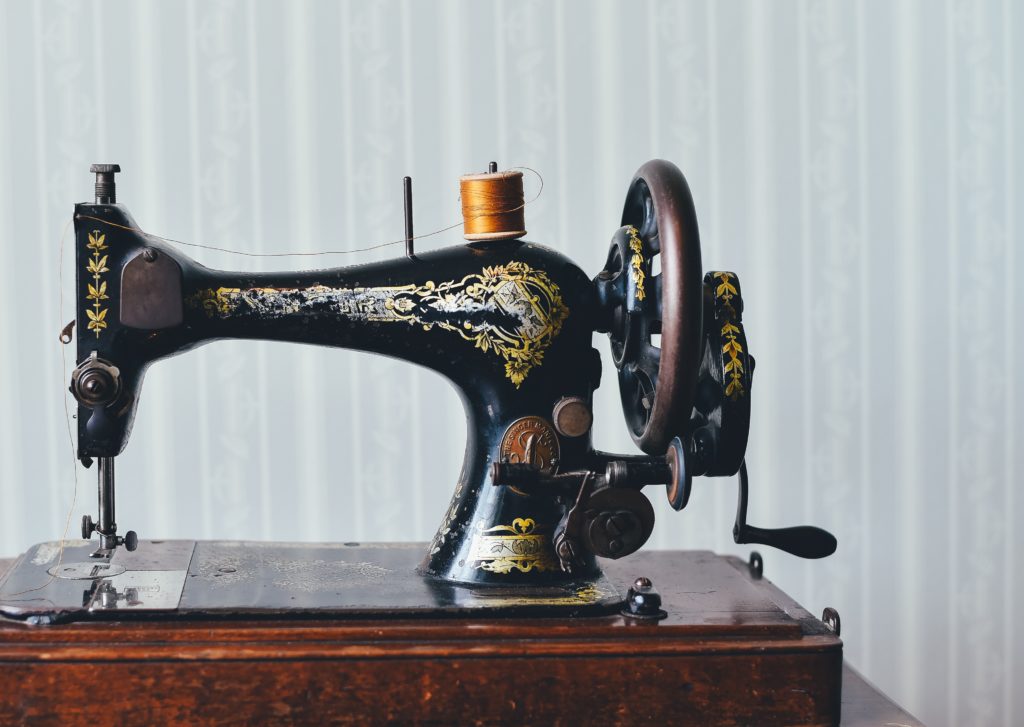 Have you thought about wearing your mum's wedding dress? Seems obvious, but remember that dresses can be altered. Especially if it's free, as that gives you some nice wiggle room to see a good seamstress. No mucking around with helpful aunties please, this is a moment to bring in the professionals. Any style of dress that fits you beautifully will look 100% better than the most stunning dress in the wrong size.
If your mum's dress disintegrated in the wash, or simply isn't your vibe, ask your other relatives if they've still got theirs. There are likely to be some uncovered gems in lofts all over the country, so it's time to start digging around. Friends of yours may be willing to lend you their dress, or potentially even give it to you – especially if that particular marriage didn't work out (eep!).
Speaking as someone recently married, I'd actually be very happy to lend my dress to a friend for their wedding, just as long as they didn't alter it – so bear that in mind. The more distant/unsuccessful the wedding, the more open the ex-bride is likely to be to you altering it. #sorrynotsorry
BUYING CHARITY SHOP DRESSES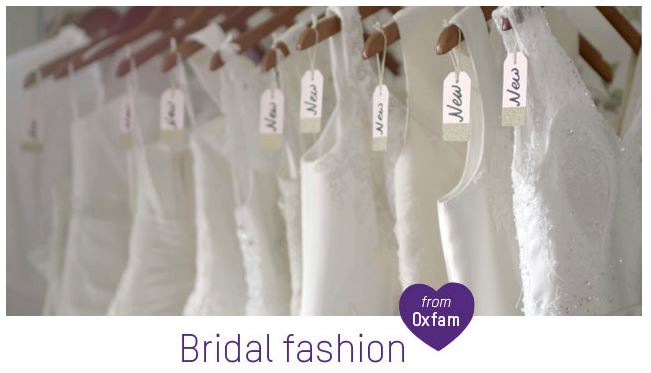 This is going to be a big investment of your time, but you'll be in the market to find an absolute billy bargain. Oxfam has a website dedicated to second hand wedding dresses, and the prices vary from around £70 – £250. If you get in there quick, they've got an £800 second hand Vera Wang dress, so it's definitely worth checking in regularly. Full disclosure – some of these dresses are pretty rogue, but there are some absolute steals in there too. Plus there's free returns on all UK orders, so you can shop without worrying about having to commit.
You can also go trawling through charity shops yourself. If you're out for an absolute billy bargain, it can be a lot of fun, but think honestly about how much time you're willing to invest in hunting down your dress, and how flexible you're willing to be. You're unlikely to walk into your first charity shop and find the gown of your dreams.
Not for the faint of heart, but deeply satisfying.
SHOPPING ON EBAY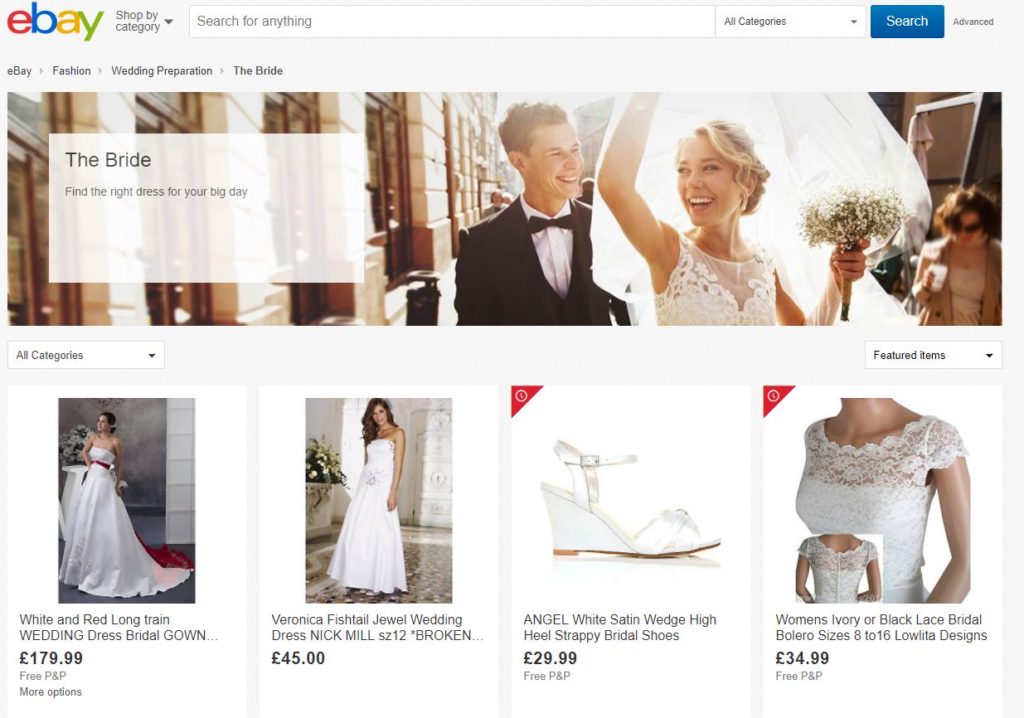 This is an especially good option if you've found a specific wedding dress you like, and someone is selling theirs on. Some very savvy brides sell their dresses on fairly sharpish, so you may be able to find a second-hand dress from last season.
If you've got a particular designer in mind but can't find the specific dress (maybe it's this season's and no-one is selling theirs on yet) you'll probably find similar styles from one or two seasons ago that will fit the bill. Changing minor details on a dress that is nearly right will be easier and less time consuming than holding out for this season's dress on resale.
ON THE HIGH STREET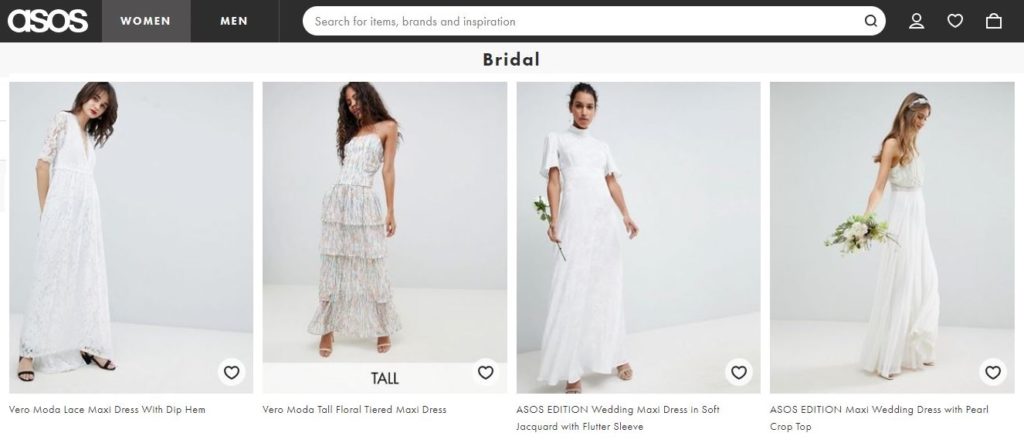 I'm not sure which shop started the wouldn't-it-be-a-good-idea-if-we-did-wedding-dresses trend, but I would just like to take the opportunity to thank them. Personally, I think high street wedding dresses are the way forward, and they're a brilliant option for current styles without boutique prices. You don't need it to weigh 10kg and be made of silk spun by pious nunnery worms. It just needs to look nice. Cosmopolitan put together a great list of high street wedding dress brands which is definitely worth checking out.
Your personal style will dictate so I'll refrain from laying out all my personal favourites here – but let me just do a quick shout out to this beautiful lace bridal gown from Monsoon. if you've got a hearty imagination, TK MAXX are a fun option for browsing and their maxi dresses are very reasonable if you're willing to get a bit crafty and creative. If you've been thinking about getting married in blue, someone please make all my dreams come true and get married in this amazing Stella McCartney fishtail gown.
PRETEND VINTAGE DRESSES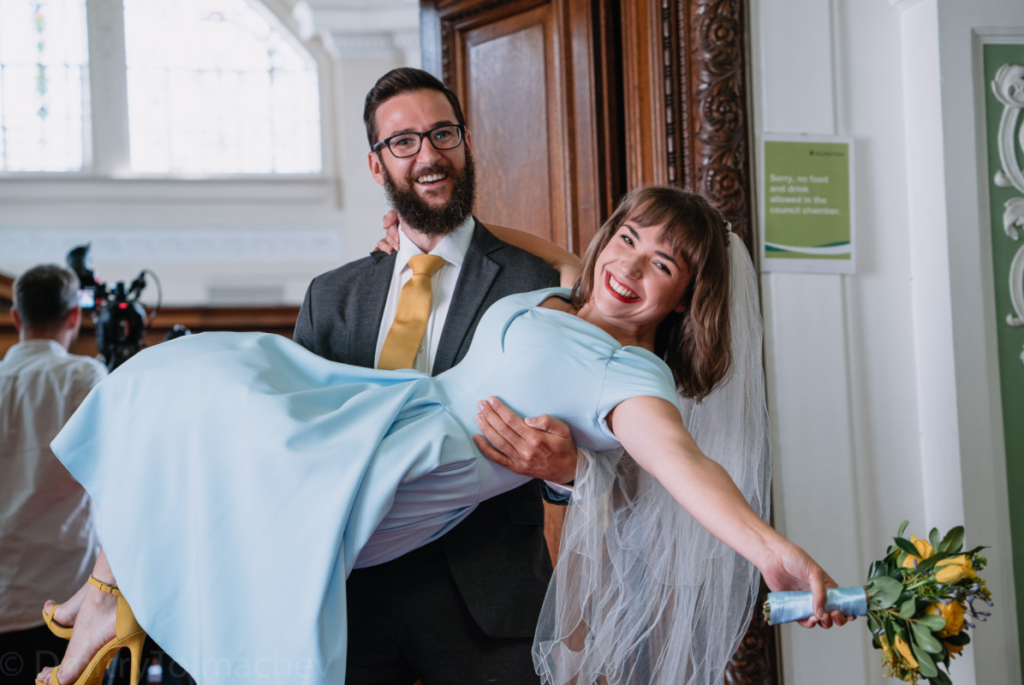 If you're new to the world of reproduction vintage, let me firstly just give you a warm welcome. Everything here is really reasonably priced and super flattering, so you're in good hands. If you're into the idea of a 50s or 60s style dress but without the hassle or the price tag, you're in the right place.
Lindy Bop is a great place to start – it's cheap, it's cute, and they do sizes 8 – 26. I'm LOVING this Jackie O dress and OH by the way it's £40. Even if you get your dress elsewhere, if you're going for a dress with a mid-length circle skirt girl you're going to need a petticoat, and Lindy Bop cannot be beaten on price in that department. You can go for classic white, or even a pop of colour to give your outfit a little something something.
The Pretty Dress Company doesn't have a dedicated wedding dress collection, but I cannot get enough of their ivory crepe jumpsuit. If you like your repro-vintage a little more traditional, check out the Fatale collection – beautiful off the shoulder dresses in a variety of lengths, styles, and colours (the dress above is the Fatale Prom Dress in Ice Blue).
REAL VINTAGE DRESSES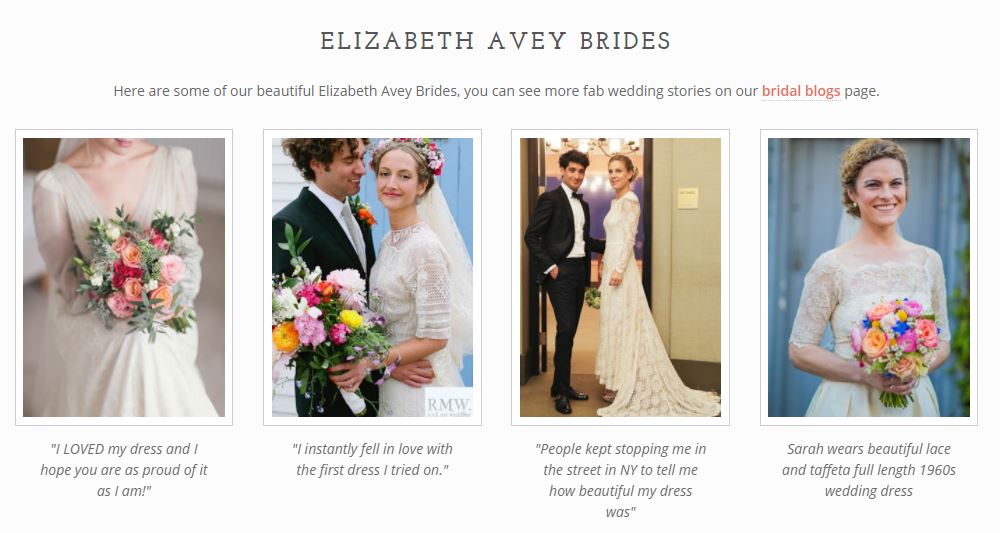 Let me just get this out here now: dress sizes have become a little more generous over the years. A size 12 now just isn't the same as a size 12 from the 60s. This is an important message because not everyone knows that, and it can be a bit disheartening to find out the hard way (I'm speaking from experience here).
So ignore the sizes. Don't even look at them. Talk to the owner about your current size, and they will be able to tally up which decade of dress will need to be in which size. Lots of vintage dresses are just straight up tiny, and anything from the 1960s backwards will most likely have been designed to be teamed with some pretty serious shapewear.
There are vintage bridal shops as well as vintage shops that also happen to sell wedding dresses. The second option will be significantly cheaper, but you're also back to a fair amount of trawling. If you're looking at generic vintage shops, look a little bit more high end to save some time.
For vintage bridal shops, try Elizabeth Avey and Heavenly Vintage Brides. For vintage shops, try Beyond Retro, Rokit and the undisputed Queen of Vintage Dresses, Annie's.