Best film premiere locations in London
Film premieres are a vital event during the release of a film. Not only is it a chance to thank everyone for their contribution to the production, but it's also a great opportunity to create some hype around the upcoming release. Inviting high profiles members of the industry, the press and even celebrities can help make a splash and get your film in front of the paying public. A perfect film premiere needs the perfect venue, so we've chosen the best spaces in London for showing off your feature film:
Location: Regents Park
Capacity: 1200 standing, 370 seated
Check it out here: Regent's Conferences and Events 
Set at the centre of the park, the tranquil surroundings include lawns, lakes and gardens. The interior of the venue itself is spacious and flooded with natural light. Well designed, it's a diverse and adaptable space. 
Location: Bloomsbury
Capacity: 150 standing, 148 seated
Check it out here: Curzon Bloomsbury 
The various screening rooms on offer at Curzon Bloomsbury were recently renovated. They now have the highest technology and design specs, including Sony 4K Projectors. The largest auditorium has a VIP balcony, adding to the sense of exclusivity. There are also smaller rooms for more intimate screenings and smaller events. 
Location: Monument
Capacity: 250 standing, 1200 seated
Check it out here: Old Billingsgate 
This sprawling venue has more than enough space to accommodate a large gathering. There's a mezzanine level, a gallery, and a large vault space with interlinked arches. The main space – The Grand Hall – has triple height ceilings and towering iron pillars. 
Location: St. James's
Capacity: 350 standing, 150 seated
Check it out here: ICA 
Celebrated artist Damien Hirst described ICA as the 'cultural heartbeat of London'. It's a beautiful building with intricate, ornate architectural design. Dating back to the 18th century, there are various reception spaces, as well as a theatre and cinema rooms.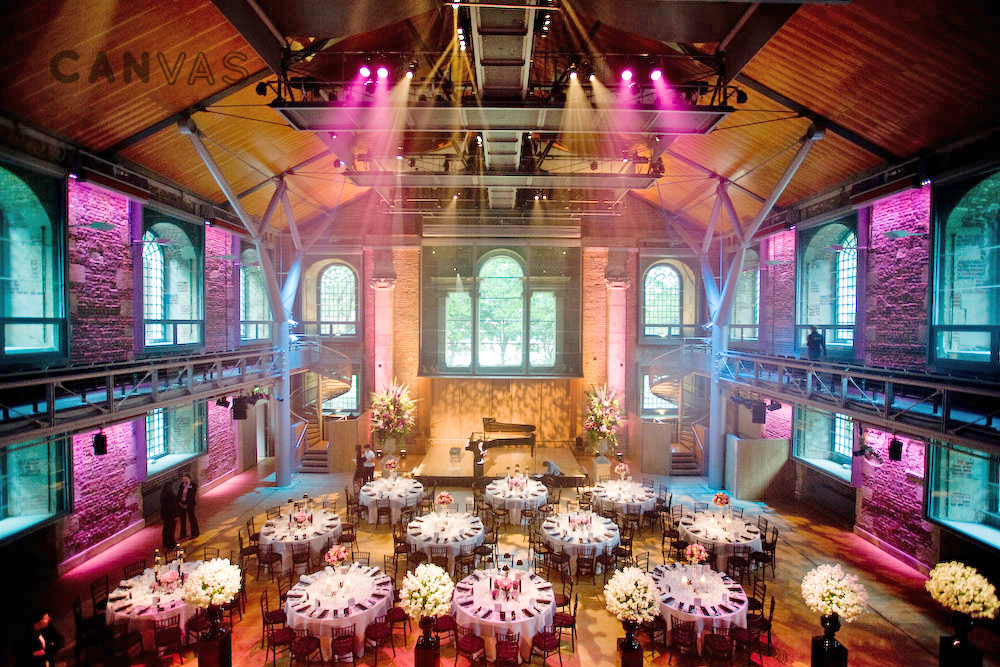 Location: Clerkenwell
Capacity: 450 standing, 400 seated
Check it out here: LSO 
Also dating back to the 18th century, LSO St Luke's is a striking Grade I listed building. The original windows and exposed brick walls keep the charm of the venue's past alive. Technical equipment and tailored lighting packages are also available. 
Location: Shepherds Bush
Capacity: 450 standing, 120 seated
Check it out here: Bush Theatre 
The Bush Theatre is a former Victorian library. It now offers up several multi-purpose event spaces, having undergone extensive refurbishment. It re-opened in Spring 2017, and now has great accessibility throughout. 
Location: Hammersmith
Capacity: 1500 standing, 3341 seated
Check it out here: Eventim Apollo 
The Eventim Apollo is legendary within the live events scene. Spacious and well-equipped, it has everything you need for a top-quality film premiere.