How to plan a wedding on a budget
You may not have reached the stage of typing "How to get married cheap and fast" into Google, but the wedding industry can quickly become quite daunting, especially if you've got a tight budget to stick to. Organising a frugal wedding can be a lot of fun, but it's not always easy to know where to make savings, what you can do on the cheap, and where it's worth allocating the bulk of the wedding budget. We spoke to three couples who splurged in some areas and saved in others, and here's how they did it:
We saved on flowers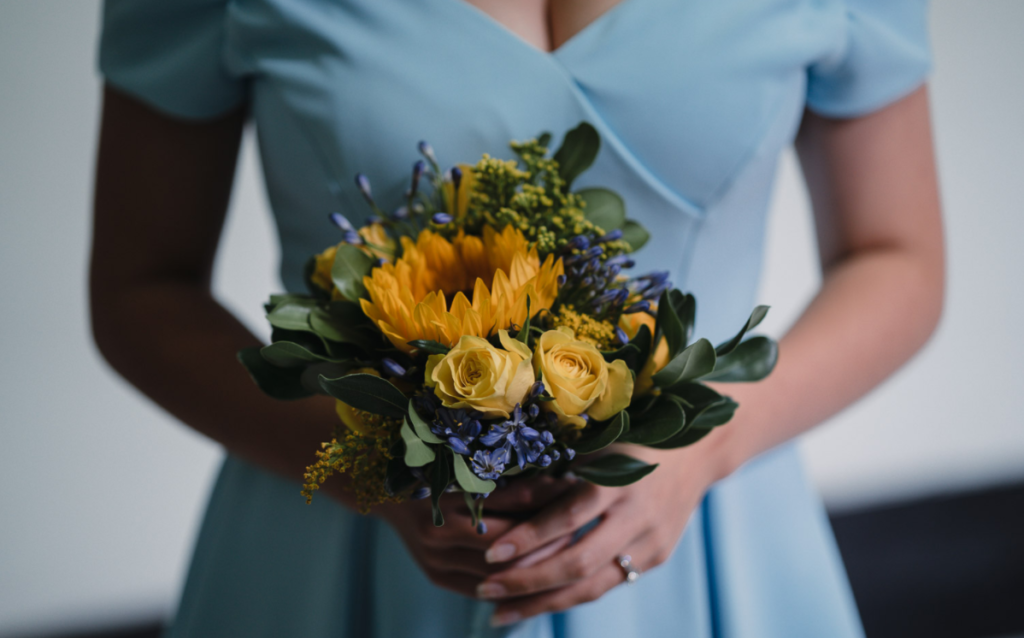 "The first time I heard how much couples were spending on their bouquet, I just knew I was never ever going to do that," says Emily. "I like flowers as much as the next person, but I can have flowers at other times in my life. I've got a garden, they can grow there."
The average couple in the UK spends almost £600 on flowers for their special day. And it's not just the bride's bouquet – some couples have bridesmaids' bouquets, corsages, buttonholes, table decorations and even flowers strewn around the ceremony.
"I decided I was happy with just a bouquet for myself," says Emily, "So I picked out a simple bunch of flowers online from Bloom & Wild, and arranged for them to be delivered to my house the day before the wedding. My mum spruced them a bit the morning of, but as they arrived pretty much arranged anyway we couldn't really go wrong."
"I got some lovely compliments on my bouquet, and they weren't heavy like the more elaborate bouquets are – plus I only spent about £25. I accidentally abandoned it halfway through the reception because I got tired of holding them, and to this day I have no idea what happened to them. If I were to do one thing differently, I would remember to toss the bouquet – but that's it."
We splurged on photographers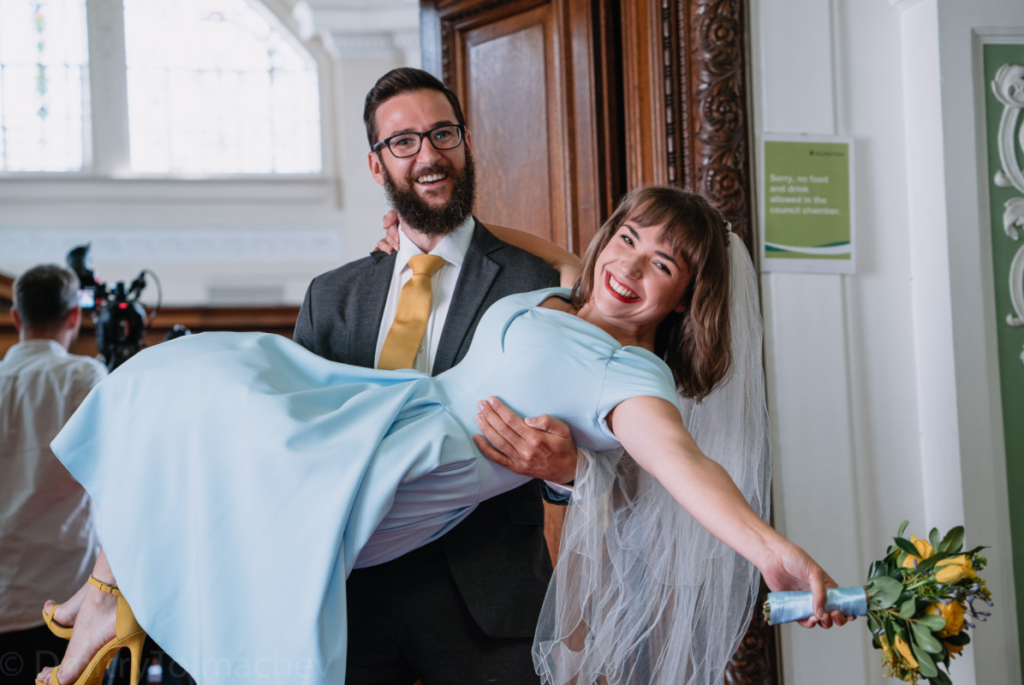 "I took the advice of my in-laws – most of the things they remembered about their wedding day was from their photos," says Emily's husband Luke. "The day goes so quickly and there are so many things to try and experience that having lots of high quality photos was really important to us. At the end of the day, it's the only thing you have left after the wedding. Apart from a dress I bet she's never going to wear again."
Unless you know a photographer that you trust and who is willing to stay sober, it's a good idea to call in the professionals. "We had heard horror stories about blurry photos, photos of the wrong people, and photographer friends who went rogue at the bar."
So they bit the bullet and a generous portion of their budget went on the photographers. "In total we spent just over £2000, and for that we got two dedicated photographers, a short film clip and a photobooth. We also bought a bunch of second hand sports cameras, handy cams and disposable cameras, but compared to the professional photos I'm not sure we'd bother with the back-up if we were to do it again."
When choosing your photographer make sure you look through their portfolio and so you know you like their style. Some photographers have a more candid approach, and some do the more traditional set-ups, so have a think about what kinds of photos appeal to you. If your chosen photographer isn't available, they may be able to suggest someone with a similar vibe.
"Hands down, it was the best money we spent on the wedding," says Luke. "Those photos last a lifetime – they tell the story of our wedding, and they captured elements of the day we don't even remember, especially because my wife was at the bar with a handful of Jagerbombs."
We saved on a dress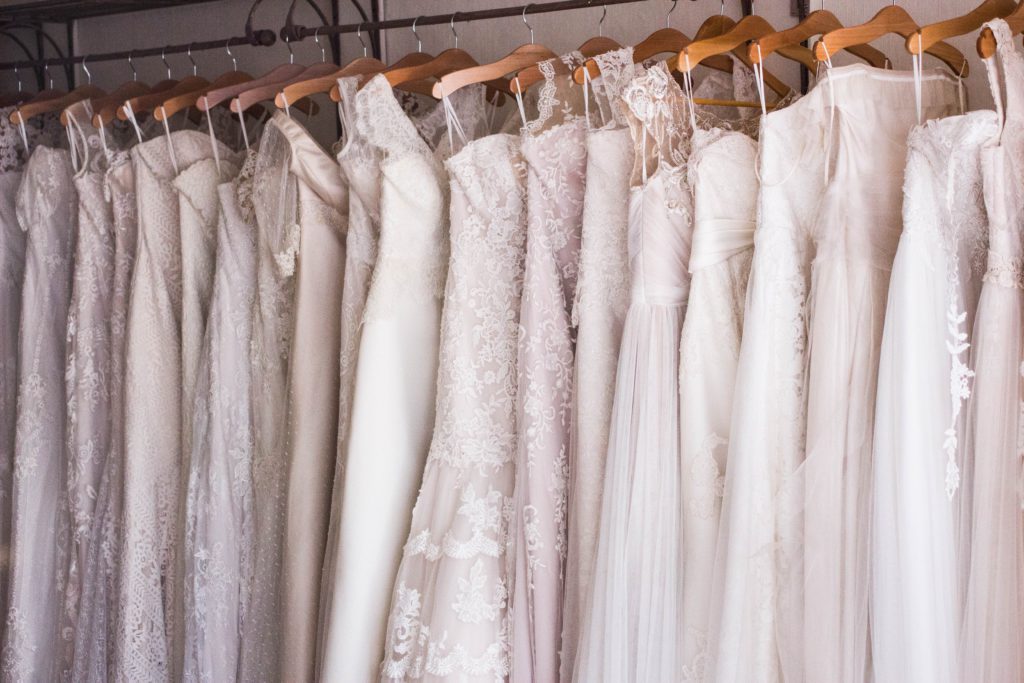 "Just from a moral perspective, I couldn't bring myself to spend £1500 on a dress I was going to wear for four hours," says Siya, "I think it would've haunted me forever. We've got a mortgage to pay, dammit!"
With the rise in popularity of wedding dresses on the high street, you don't have to sink half your budget into a bridal gown anymore. "I set a budget of £400 and then started shopping around a lot – I bought dresses on Asos, I tried second-hand dresses from relatives, and went to every charity shop I could find. It was actually really fun, but it did take a lot of effort."
In the end a damaged vintage dress in a second-hand wedding dress shop was the winner. "It was perfect – I had that real 'Say Yes to the Dress' moment but it only cost £200. I was over the moon. Once I'd paid for the damage to be repaired and some alterations, I even had some cash left over to buy a shorter dress to dance in at the end of the night."
"I didn't want to compromise to the point of wearing a dress I didn't like, but it became obvious pretty early on that I was going to find something I loved within my price range. After that it's just time you have to invest!"
If the idea of budgeting on a dress gives you the heebie-jeebies, you could consider trying dresses on at a bridal shop and then looking for the same dress at an outlet (a la Monica in Friends). Lots of brides are opting to sell their dresses on after their wedding, so it's worth spending an afternoon or seven trawling eBay, too.
We splurged on a venue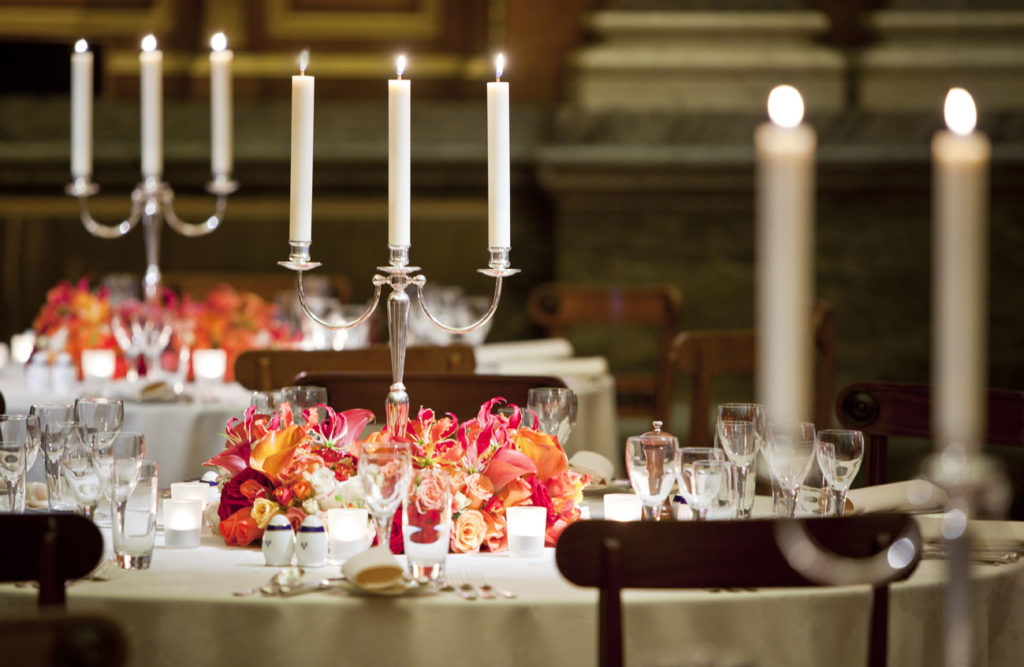 "We knew straight off the bat that we wanted to get married in London, on a Saturday, in August," says Siya's husband Ankur, "And we knew that was going to come at a premium. We also didn't want to have to set up the dinner tables after the ceremony, and then take them down later for the dancing, so that narrowed the field somewhat!"
"I like to think what we spent on having a 'whole shebang venue' we saved in other places, like transport between the ceremony and the reception. Our guests saved on their accommodation and travel costs, and no-one had to take a day off work."
Lots of experienced wedding venues come with a dedicated event manager, so you should be saving on the costs of a wedding planner, too. It's also commonplace for more expensive venues to include staff in their overall costs as well as table dressings and light and sound equipment.
"When we were calculating how much it would cost to hire a big, empty venue and separately pay for all the furniture, staff, glassware and decorations, it transpired it would be almost as expensive as booking a kitted out venue – plus it would be a huge logistical nightmare to try and organise.
"We had to make big sacrifices in basically every other area of the day, but it was a lot less stressful for us than some of the more DIY weddings our friends have had – and that was important to us too."
We saved on food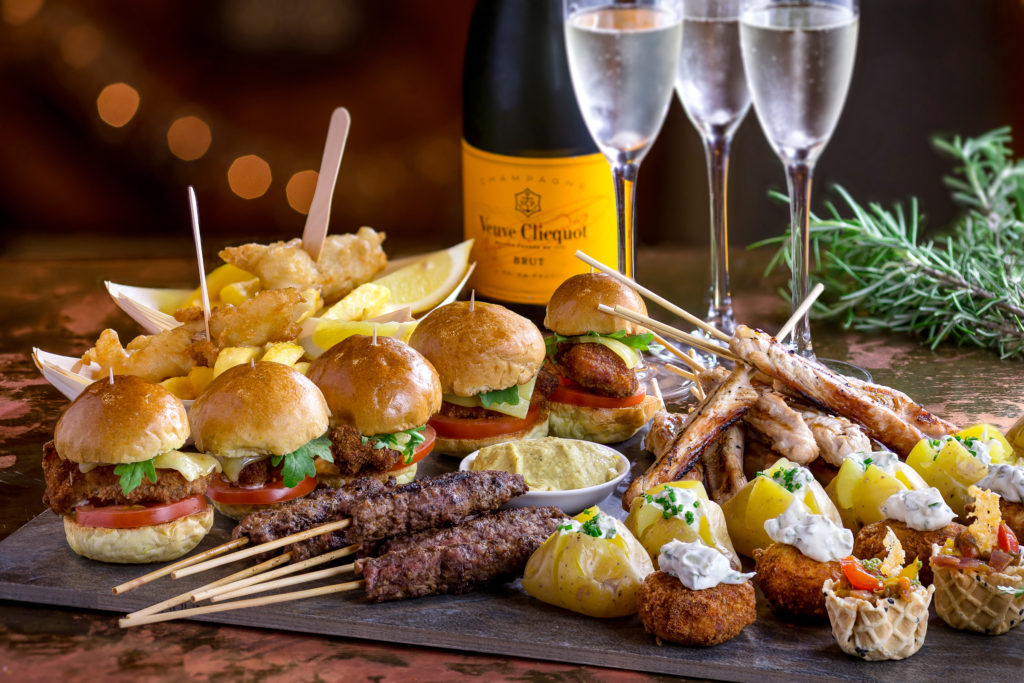 "When I started thinking about the favourite weddings I'd been to," says Ida, "I could never remember what food was served. I've been to weddings with BBQs, three course meals, buffets or canapes and I just got the overwhelming feeling that it hadn't impacted on my enjoyment of the day in the least."
Ida and her now-wife Jess were happy to go non-traditional with the main meal, so they opted for a venue with a budget meal-per-head option. "We paid £15 per guest for a buffet, and we didn't do a tasting in advance because it was going to cost £180. We didn't get to pick the menu, but we did warn the caterers in advance of our guests with dietary requirements so we knew everyone was catered for."
If you're struggling to find a venue you like that offers a cheaper per-head cost for dinner, try looking into dry hire and finding your own caterer. It'll require a lot more logistical input from your end, but is a great way to economise.
Other options you might want to consider are food trucks, ordering a massive pizza delivery, or even self-catering. Just remember to factor in the additional time it'll take to organise the logistics – you might want to allocate a food-savvy friend to be in charge of liaising with the caterers so you don't end up with too much on your plate (ba dum dum, tis).
"We had an amazing day, the food was good and we actually really enjoyed the relaxed vibe of the meal" says Ida, "I wouldn't change the experience!"
We splurged on booze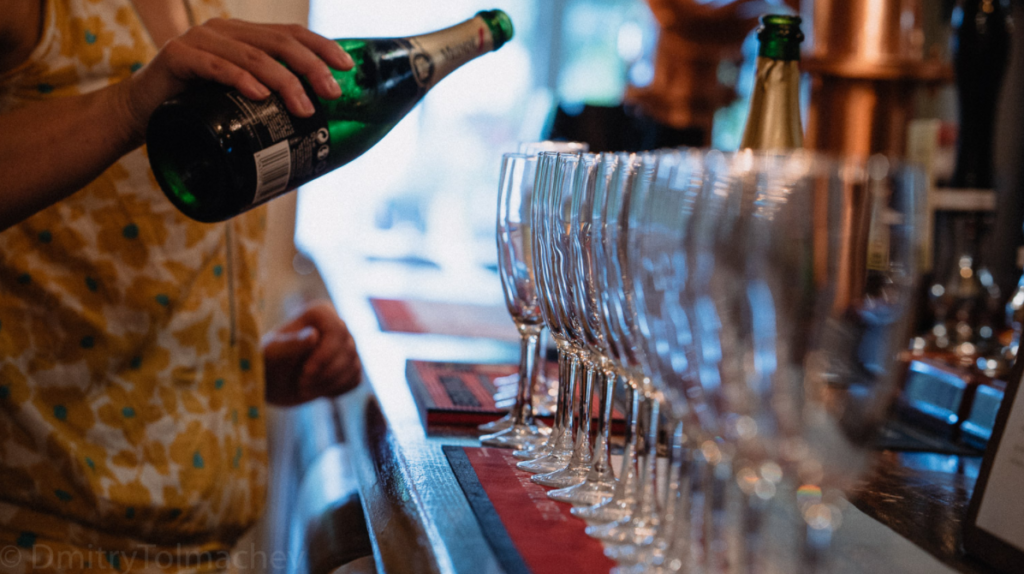 "We had a fairly sizeable guest list – around 130 people ended up confirming – and I wanted to show them a good time," says Ida's wife Jess. "We had champagne on arrival, lots wine on the table, and a staffed free bar for everyone all night."
Venues have different options when it comes to alcohol, and it's good to work out in advance how much alcohol you think your guests will go through. "I did a lot of research into different booze calculators, and I started taking a mental note of how much our friends tended to drink on a night out. We broke our guest list down into non-drinkers, light-drinkers, moderate-drinkers, heavy-drinkers and very heavy-drinkers. We were pretty generous with the numbers – even the non-drinkers were allocated two glasses of champagne to toast with."
Depending on whether your venue has a corkage fee or a selection of house alcohol options might influence how much you want to spend. "Our worst nightmare was our guests not having enough to drink. We toyed with the idea of limiting the options to beer and wine, but we just decided to go for gold."
"All in all the bar tab came in at just over £6000. There are definitely cheaper ways of doing it that I would consider looking into if we were to do it again, but I wouldn't change the volume that was on offer. Everyone got pretty rowdy – which was exactly what we wanted!"
Budget Wedding Inspiration
If you're working to a tight budget but still want an elaborate wedding, the main investment you'll need to make is time. We've put some of our favourite affordable ideas together to make the process a little bit quicker for you: